Since launching in 2003, Elecomm have been leading the way in the design and installation of cutting-edge solutions that help switch businesses on. They've grown exponentially in that time and they're now one of the UK's top, multi-disciplined providers of electrical, mechanical, data and facilities management services, with the likes of Ikea, Asda, Aldi and the BBC on their client roster.
Brand identity
Following a strategic review, Elecomm recognised that the brand identity they started out with, was no longer in keeping with the company's size, status or service offering.
I teamed up with The Backroom Agency and together we presented at pitch meetings to explain how we could help them develop a new branding and marketing strategy. Happily, we were successful, and the first phase of the project began. The Backroom carried out a full rebrand and website redesign, while I concentrated on writing their website copy, and developing a marketing strategy and plan that would help Elecomm achieve their growth objectives.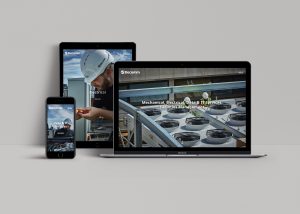 Marketing support
Once the new branding and website had gone live, Elecomm identified the need for someone to help them implement their new marketing plan. They weren't ready to recruit a marketing manager, so I joined them on a freelance basis, managing their marketing for one day a week. A year later, we're still going strong.
I work in this way for a number of clients. It's the perfect solution for companies like Elecomm, who understand the importance of marketing, but who aren't quite ready for a full-time marketing resource.
If you'd like to explore new approaches to your marketing, just get in touch.